GREEN TECHNOLOGY PROGRAMS
Most of us involved in the educational field understand that Green Technology is THE NEXT BIG THING! But as with all new fields and technologies - it is very hard to define or predict. The definitions seem to change depending on who you speak with.

But however you define it, just as we all understood in the early 1980 s that computer technology would change our society in ways we could never imagine - Green Technology will shape our lives over the coming decades in profound and inevitable ways.
The new Green industry is dedicated to managing the world s natural resources and energy in a more efficient manner while allowing for an acceptable standard of living for its inhabitants. This movement, composed of many different people and organizations, has been deemed the green movement . Around the world, this movement has taken hold and is growing as it becomes apparent that key natural resources are becoming much less abundant and the demand for them is growing rapidly.

One of the key areas in the green movement is the search for cleaner, more environmentally friendly sources of electrical power. At the forefront of this search are wind power, solar power and fuel cell technologies. While these technologies are not the only source of clean energy being explored, they are the most promising technologies in the field and are generating demand for workers skilled in these areas.
Theory to Reality - The GT-9000 Lab Panel Package
The GT-900 Green Technology Textbook
Features key concepts and practical application guidelines for:

Solar (Photovoltaic) Power (design and installation)
Solar Thermal (solar hot water)
Small Wind Power (design and installation)
Fuel Cell technology
Biofuels (ethanol and biodiesel) and Biomass
Micro Hydro Power systems
Energy Conservation Techniques
Energy Auditing
Green Building Concepts, Transportation Issues,
Environmental Compliance and Monitoring
Ocean Energy, Geothermal Energy, Nuclear Energy and more...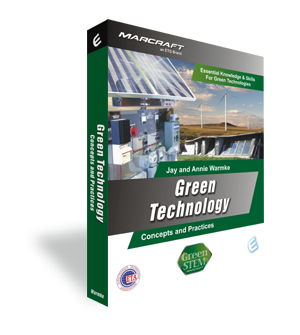 Copyright © 2012-2016 by Educational Technologies Group • All Rights reserved
RENEWABLE ENERGY & ENERGY EFFICIENCY

Contact Us!